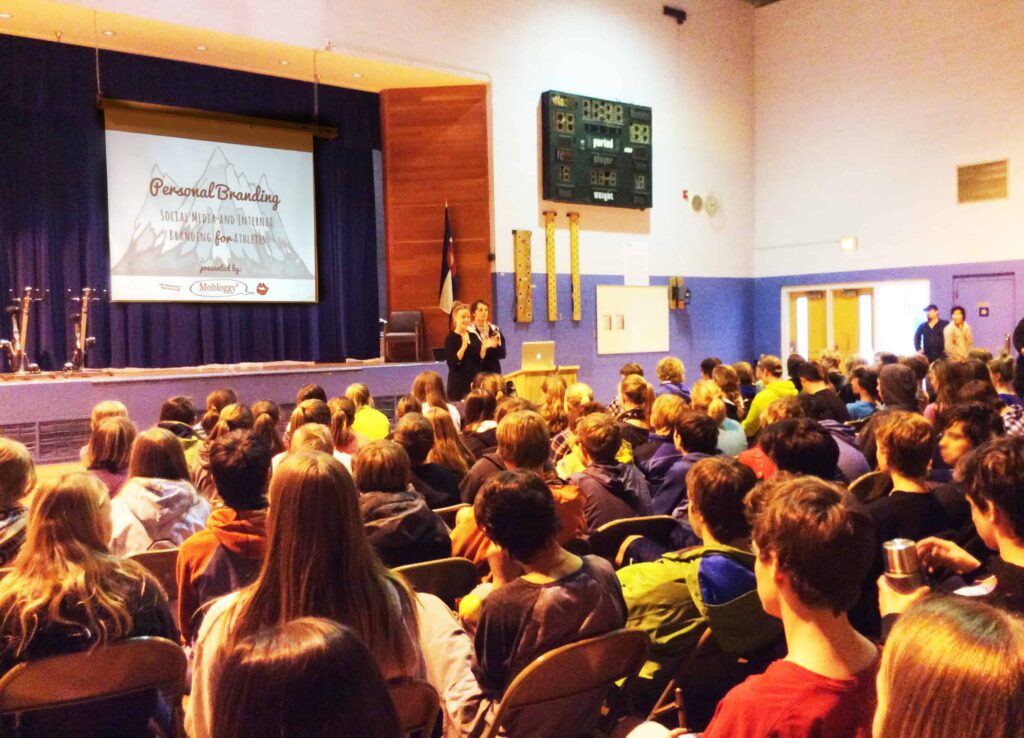 Vail Ski & Snowboard Academy students get a social media lesson on branding
(February 6,2014, Minturn, Colorado)  Mobloggy®, a social media and internet marketing company based in Minturn, Colorado had the opportunity to speak about professional, social media branding with students at the Vail Ski & Snowboard Academy (VSSA) on Thursday.  VSSA is the first public winter sports academy in the United States that offers students in grades 5-12 the opportunity to train 6 days per week in the winter months through flexible scheduling and online interface.  Mobloggy taught VSSA students how their online presence could affect potential sponsorships, jobs, and their overall life.
"Facebook has been around for ten years now, so some people could potentially have at least that much online history that could affect how they are perceived by college recruiters, sponsors, and employers," said Karly Basara, Brand Manager at Mobloggy and co-presenter.  "We sometimes forget that even commenting on or liking a post on Facebook can be attached to us forever with a simple Google search."
The VSSA students learned about positive branding, tips on platforms, and were also given examples of professional athletes, like Kelly Slater, Halldor Helgason, and Torstein Horgmo that are presenting their social media presence the right way.
Mobloggy helps their clients reach their full, online potential through social media platforms like Facebook, Twitter, Google+ and LinkedIn.  In addition, they help clients get found and noticed through search engine optimization, website design, email campaigns and branding.  The four-year old company is often called upon for presentations in the community.
"We are thrilled to help these future, professional athletes get a positive head start on their social media," said Basara.  "School age kids will probably never know a life without social media, it's important they are informed about the positive and negative affects it can have on their future."
For more information or to request a speaker, call 970-306-7621 or visit www.mobloggy.com.
Mobloggy is offering FREE social media and internet marketing help on Valentine's Day to show their love.  Email info@mobloggy.com to RSVP and reserve a timeslot.