5 Content Posting Steps For Powerful Instagram Marketing
This is the third out post in our series on powerful Instagram marketing. Read it as a standalone post for a quick insight, or as a part of the entire series for comprehensive understanding. We have one more post planned to complete the series – one on powerful tools that will make your Instagram marketing efforts streamlined and professional. Stay tuned.
3 Use the right hashtags with the right photos
Hashtags are your way to reach out to new audiences. Photos are your way to identify yourself and communicate your message. Through careful listening to what your audience loves, you will have a very accurate and actionable idea of what works after just a couple dozens of posts. We will explain how exactly that works on an account strongly aspiring for that elusive #instafame – @moonshaydes_the_setter.
Moonshadow is a dog of one of our staff members. Even on the first look, you can tell she is not an ordinary dog. Passing cars stop to praise her beauty, and little girls scream in excitement asking if they can please pet her (she lets them, for she is a sport). We thence decided to make her into our Instagram guinea pig. After three months of #instawork, the results were awesome. Especially so when we found out what images people preferred – those with Moonshadow only, or maybe of dogs of the same breed. The results turned even more awesome once we figured out what tags work best – #englishsetter, #huntingdog, #birddog. People with other interests than these narrow dog breed groups enjoy Moonshadow, too, but they do not LOVE her. That tells us English Setters are our best target audience, but that is fairly limited, so we opted for a brand extension – nature. That theme traditionally works very well online and we now find that people with other breeds still LOVE Moonshadow – as long as they LOVE nature, too.
The main point: – you don't need to speak to everyone. Just speak to those that your messages will resonate with most and find ways to engage them.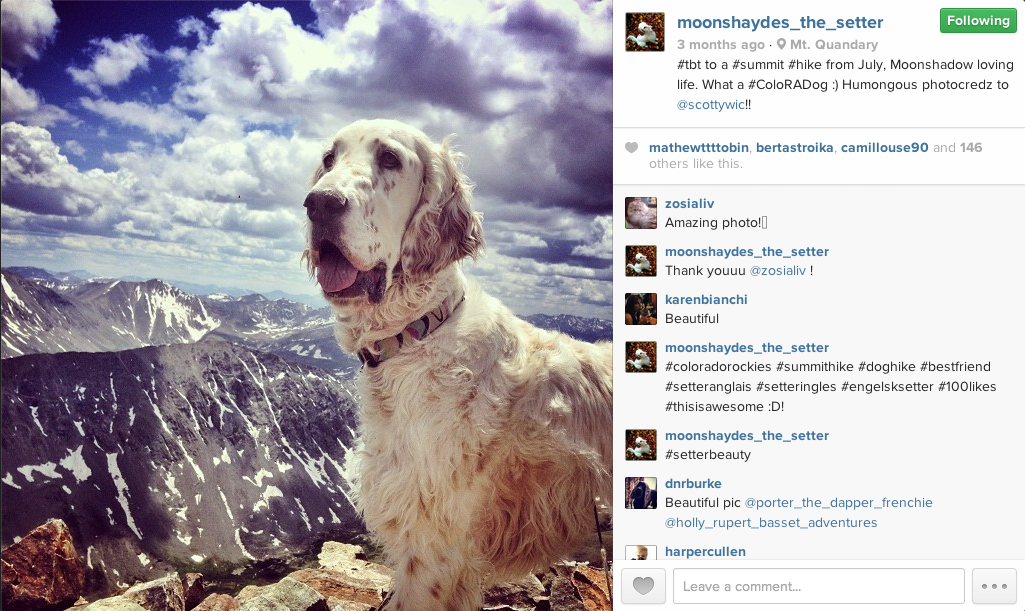 To end on a universal note, check out the top 100 most used tags on Instagram. Use at least one of them in each of your posts. In total, use some ten tags per post if you're starting, and two or three if you are an established brand. Keep them all strictly relevant, but remember that this is not Twitterverse and you do not want to limit yourself to one or two tags only.
4 Be consistent
Like in all marketing, be strictly consistent. Once you go through steps described above, stick to them. The goal is to make it very easy for people to decide to follow you – and they will indeed have an easy time hitting that coveted follow button if you form clear expectations and reach the right people.
The way to apply this to Instagram is to strive for a gallery look. Photo galleries are, after all, what Instagram is made for.  A good example of gallery consistency is @mollyholmesart.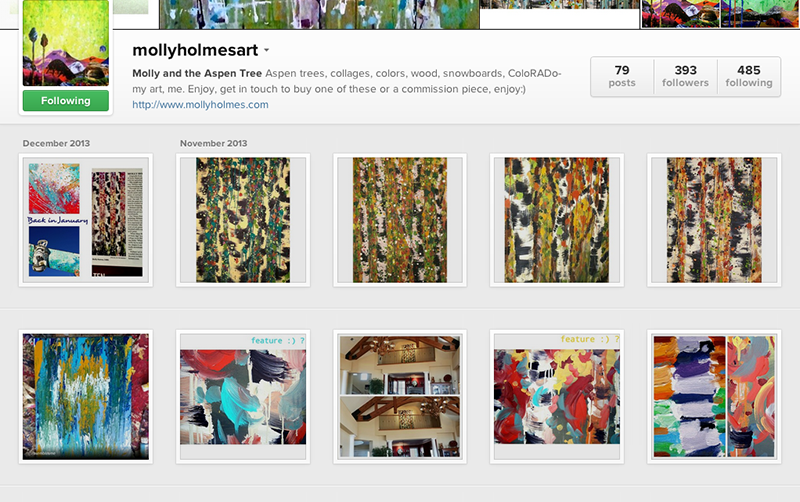 This also is an experiment affiliated to Mobloggy's staff. Molly Holmes is a modern artist from Vail, CO, that uses Instagram as a main way of promotion. As you can see in the image above, she is very consistent in what she posts – mostly just #nofilter photos of her #originalart and #abstractart. Whenever she posts about anything else – a painting of another artist, or a photo of her art that is not a detail, engagement drops. People who are new to your gallery and see that the last couple photos are not consistent will thence be less prone to engage with you, which slows down your growth.
A final rule to remember is that your photos must be consistent in beauty, too. With the number of photos uploaded daily to Instagram, just "good looking" is not enough. Strive for beautiful.
5 Interact with the right people
To gain visibility, interact with #igers that are highly likely to interact back with you. After every post, search through relevant hashtags and leave a ton of genuine likes and constructive comments. If someone is a particularly good visual fit for your own gallery, interact with them even more.
Remember that your comments and likes will appear under their photo and stay there for a while. They will also appear in notifications of people that you interacted with. On Instagram, the highly simple and self-oriented social network, the traces you leave this way can be your prime sources of visibility.
Also, keep a close eye on all the comments people leave you. Ideally, address ALL of them, and invite for more interaction. To further support building relationships, find followers that are your biggest likers, and reward them with giving likes and comments back. Doing that, you'll make those people into the most avid followers ever.
Finally, when it comes to following, only follow people that post photos relevant to your own. That doesn't mean that you should restrain yourself from following much; rather does it mean that you should strive to build a newsfeed full of photos that you love (and that your own fans would love). You can then use a newsfeed built that way to interact with people who will interact back and bring most value.
Talk to Us
Do you have questions on how exactly Mobloggy can help your very own Instagram presence? Contact us, we'll be more than happy to tell you.
More to Come
In the next post, we'll provide a list of hands-on tools essential for making your Instagram marketing streamlined and professional. Check back in!