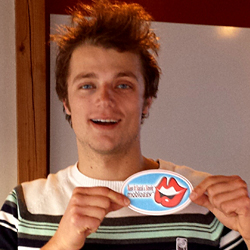 Vail Valley Partnership ambassadors include a diverse number of individuals from the community including; small business owners, entrepreneurs, media, real estate and other sectors.
Ambassadors are advocates for the Vail Valley Partnership. They serve as stewards in recruiting and welcoming new partners to the Chamber.
from the Vail Valley Partnership website:
"Branko is a Slovak young blood who designs and carries out strategies of online marketing clients for the creative Minturn-based company. His specialties are social media, languages, and mountain sports. Taking his pleasure seriously, United States is now the seventh country Branko has lived in. All the ones before were mountainous and profoundly enjoyable, but appreciation of sun and altitude make him forget that ColoRADo is commonly spelled with one capital letter only.
His education is in economics, international business, and languages (fluent in four, conversational in three). His work experience is in sales, events, start-ups and online marketing. Doing PPC campaigns and e-commerce for his and his father's comapny made him discover the unprecedented effectivity of online targeting, which later translated to passion for the power of community communication on social media.
Give Branko a high-five when you see him on a run with @moonshaydes_the_setter, or when you hear him praise @mollyholmesart. At the same time, he'll be delighted to connect with you on his LinkedIn, or Instagram"
Branko Kral is the Brand Strategist at Mobloggy®