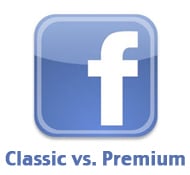 Facebook is in works to create "Facebook Premium" where marketers will have the ability to have an even greater presence on our Facebook pages – web, mobile, and tablet.  The ultimate vision is for marketers to be able to interact with the user just as much as our friends and family, but will these changes really be for the benefit of the user?
Facebook has essentially decided to change it's social media platform into the ultimate marketing tool.  Premium will allow brands to have Timelines, strategic placement of ads which include pushing offers during the log out experience, and featuring brand stories directly on our newsfeeds.  The brand stories have the ability to be promoted much like Twitters promoted tweets. Marketers believe this is going to help create a more personal connection and develop long lasting relationships with consumers. In addition, Facebook has also created a new tool, "Reach Generator", that guarantees 75% of fans will see the brands content each month.  If Facebook is used effectively, theoretically, brands can see 3X ROI.
So, will these new changes create more user engagement?  I guess it will depend on how well marketers will be able to convince the masses that "ads" are "stories".  Only time will tell.  I'm certainly interested in what all of this will evolve into, but I have a feeling fans will embrace the changes just as they have throughout the years.  Facebook premium may very well be the birth of a new era in marketing.